by: Jamie Rautenberg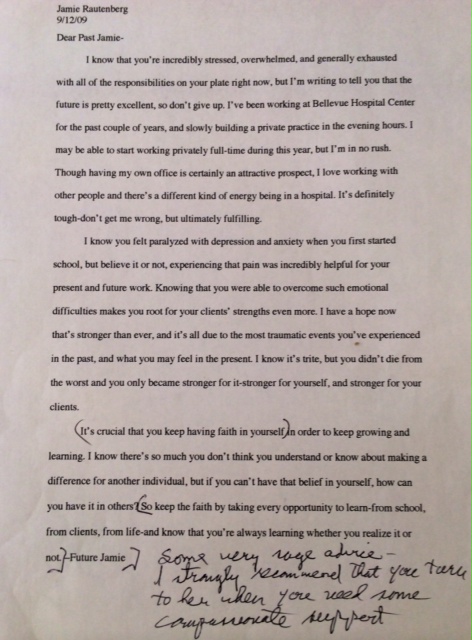 When I was a social work student at Fordham University back in 2009, one of my first assignments with Professor Robert Chazin was to write a letter to myself from my future self. He wanted us to create a glimpse into our future and offer some advice for how to make it there in one piece.
I *love* assignments like this because it gives us the opportunity to seek our own advice. It also gives the teacher an opportunity to learn a great deal of information about us in a very efficient & therapeutic way.
I'm grateful that I stumbled upon this exercise today because I needed to hear it. It didn't just boost my mood, but it reminded me of the very important truth that we already know our own answers. We know how to cheer ourselves on, we just forget through the muddied lens of pain's perspective.
For those who can't read the image, I've typed my letter below. But, I'd love to know what your letter would say. Share with us in the comments!
Dear Past Jamie-
I know that you're incredibly stressed, overwhelmed, and generally exhausted with all of the responsibilities on your plate right now, but I'm writing to tell you that the future is pretty excellent, so don't give up. I've been working at Bellevue Hospital Center for the past couple of years, and slowly building a private practice in the evening hours. I may be able to start working privately full-time during this year, but I'm in no rush. Though having my own office is certainly an attractive prospect, I love working with other people and there's a different kind of energy being in a hospital. It's definitely tough-don't get me wrong, but, ultimately fulfilling.
I know you felt paralyzed with depression and anxiety when you first started school, but believe or not, experiencing that pain was incredibly helpful for your present and future work. Knowing that you were able to overcome such emotional difficulties makes you root for your clients' strengths even more. I have a hope now that's stronger than ever, and it's all due to the most traumatic events you've experienced in the past, and what you may feel in the present. I know it's trite, but you didn't die from the worst and you only became stronger for it-stronger for yourself, and stronger for your clients.
It's crucial that you keep having faith in yourself in order to keep growing and learning. I know there is so much you don't think you understand or know about making a difference for another individual, but if you can't have that belief in yourself, how can you have it in others? So, keep the faith by taking every opportunity to learn-from school, from clients, from life-and know that you are always learning whether you realize it or not. -Future Jamie
Professor Robert Chazin' s comments: Some very sage advice-I strongly recommend that you turn to her when you need some compassionate support.
Share