by: Jamie Rautenberg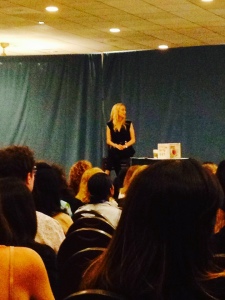 It's the beginning of Summer 2013 and I'm late for the Hay House Writer's Workshop.
When I check-in, I ask the event coordinator if there's a place in the back of the room they can seat me so I can remain as inconspicuous as possible if I have to lay down on the floor at some point.
A nice man escorts me into the conference room where the luminous Kris Carr sits on stage. I whip out my trusty seat cushion and buckle up for my first attempt to engage in a normal activity outside the house since starting my daily IV antibiotic infusions.
Kris begins with a quote about writing that, if I'm being honest, I don't really remember. But, it was something along the lines of speaking your truth. With boundless energy, she effortlessly shares her beautiful journey as a "Crazy Sexy Cancer" conquerer. After reviewing how she's built her Crazy Sexy Wellness empire, it was time for Q&A.
Here's when I started feeling a little sick to my stomach.
I listened to one woman after the next discuss their already expanding platforms. One person asked Kris her advice about using her top executive status at a fashion corporation to access its mailing list of millions of subscribers for her personal ventures.
So yeah, I'm beginning to get the impression that this isn't necessarily a conference for those just getting their feet wet in publishing and need to learn about writing a book proposal. Though everyone who attended the conference has an equal opportunity to win an advance and publishing deal upon the submission of a proposal, I'm starting to feel less confident. "Oh, I know you! You're doing wonderful things. Everyone, watch this woman, go to her website, she's doing things!!", Kris exclaims as the next woman approaches the mic stand to ask her question.
Ok, now I'm really intimidated.
Thankfully, there's a break, so I head to the bathroom to cool down my face and fire back up my confidence. As I exit the bathroom, I run into Matt Monarch, a popular hardcore raw food YouTube personality that I've just started following to learn about detoxing my body.
"Are you here for the writer's conference?", the lady at the check-in desk asks him. "No, I'm actually speaking today at the Raw Food Expo.", Matt replies. "Oh, um, that's in the room next door." she says, obviously having no clue who he is.
But, I do, and I decide to let him know by randomly yelling out, "Your passion for healing people through diet is awesome!" He turns to find my voice and politely thanks me before heading into the expo.
I peeked into the sun-filled room. There's tons of booths set up with all sorts of cool looking stuff. I'm immediately drawn in, if not just to get some sunshine after hours in the windowless soul-sucking hotel conference room lighting from our room.
Immediately, I'm engaged in a discussion with a lovely lady who makes her own soap out of vegetables. I tell her about having Lyme disease and how I've radically changed my diet. Within 10 seconds of hearing my story, she offers me some wheatgrass to keep up my energy for the writer's workshop. I take in the remarkable warmth and kindness here and head back to Kris Carr.
Kris begins to cleverly explain marketing, networking, building a platform, and all the nitty gritties of the business of writing, and presents them in a comprehensible way that I can actually wrap my Lyme mind around.
It all makes sense to me, but why do I still feel so out of place in this crowd?
It's right then that I had to make a mad dash to the ladies room. Apparently, the wheatgrass proved too much for my sensitive belly. You think you've hit a low point when you've had a few cocktails too many and end up sick in the bathroom at the bar, but today I learn that, for me, it's way harder being sober and completely aware of all the activity happening around you in the bathroom.
Remember, there are two major conferences on the same floor of the hotel with one bathroom. Every time I try to release the poison inside me, someone walks in alarmed by the sounds of my sickness.
Despite my best efforts, 35 unproductive minutes go by as I struggle to find a comfortable position in the tiny bathroom stall. This is just not happening right now. After a tearful phone call to Sean debating if I can really get through this, I choose to soldier on because I have this nagging gut feeling that I'm going to miss something if I give up and leave. So, I head back to my little corner tucked away in the back, and lay down on the floor with my notebook and pen.
I guess they were doing more Q&A, and I arrived just in time to hear a question from a fellow Lymie. She appears to be in her 50's and shares a story about how she suddenly became paralyzed at the wheel while she was driving one night. The frightening paralysis was a complication of Lyme disease.
She questioned, "There's just so much, I don't even know where to begin, or what to say about what I'm going through."
To which Kris responded with something like, "You were driving one minute and paralyzed the next! There's your story, there's your truth. It's not about starting at the beginning of your life story, it's about finding the truth about where you're at."
Bingo.
That's the same important message I took away from grad school: meet the client where they are at.
This theme should also be applied to yourself. Every time I sit in front of the blank page and tap on these keys, I'm meeting myself. I don't always know where the words will go, but I follow them honestly. I don't deny an ounce of truth that asks to come out through the tips of my tingling fingers. But, I may still be playing this all a little too safe.
When I first started my private blog, it was a therapeutic tool for myself and attempt to shed light on the isolation of this disease. So, in order to live as authentically as possible, I'm going to risk identifying myself publicly. There may be some therapists out there who think I'm crossing a boundary by revealing so much of myself, but I'm ok with the judgement.
Healing takes place when energy is exchanged, and that's what I intend on doing.
It's not like I'm going to chat about myself on my client's dime, I'm simply just putting my naked truth out there so my clients don't hold me to some superhuman standard to which so many of us hold ourselves.
I'm done hiding. I've got problems to overcome just like anyone else, and it's in that recognition and acceptance of humanness that we can all evolve beyond the pains we carry.
With that in mind, I purchased my first web domain because I believe we should all brave on and bring our raw worlds into the light. 
Share