by: Jamie Rautenberg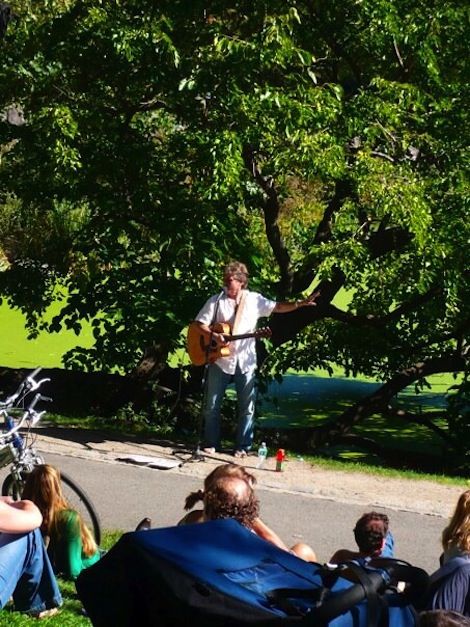 October always reminds me of the beauty of the park I once called home. There really aren't any words to express the love I feel for Central Park. But, that's not what today is about.  Today's about gratitude for this barefooted soul I had the privilege to stumble upon one lonely day, many Octobers ago.
Below, I share why in a piece from my private blogspot that I used as my little processing space on the interwebs right after I began Lyme Disease treatment.
Friday, May 31, 2013
One More Time Around the Sun.
About six years ago, when I made the move to the Upper West Side from my familiar East Village surroundings that housed me for the majority of my 20's, it seemed like social suicide. Sidewalks that were once littered with hipsters, experimental theater workshops, and dive bars, were replaced by nannies, strollers, and puppies. Lots and lots of puppies.
The Upper West Side evokes a certain lifestyle that I couldn't relate with just yet, but I knew I needed to be here. It wasn't just because Fordham happened to be a pleasant 15-block walk away from my new digs. There is a quietness here that just can't be found down on Houston Street, and I couldn't afford the distractions I once indulged in while "studying" as an undergraduate at Tisch. Though I planned this for my own benefit, it didn't mean I was ready to part with my past self. I'm stuck in between, at this point- I'm not who I was, but I'm not where I'm going. So, it looks like I'm back to playing solitaire for awhile until I figure out my next turn on the bumpy road of grad school that lies ahead of me.
Though the program was only a couple of years, it felt like a decade. Life seemed to pause, or maybe I just did. In fact, this was probably the most emotionally exhausting time I'd ever experienced up until then, and I faced it alone.That's not to say I didn't have friends and family that were there for some of those tough moments, but these were my inner demons rising to the surface, and I needed to use this opportunity to deal with it myself. Instead of coping with Zoloft, I went with Central Park.
It was a crisp October day in the park, and the trees were bursting with color, commanding admiration. After a brief encounter with the self-proclaimed "Mayor of Strawberry Fields", who instructs tourists on how to pose around the John Lennon memorial, I head down to the lake. What I discover, would become an integral part of my healing process, though I had no idea the profound affect it would have on this particular Fall day.
Loud screams break out on the grassy hill near the west side of the lake between West 72nd and 77th Street. I finally arrive at the scene to find a very diverse and relaxed crowd of people fixated on a barefoot man with a guitar, encouraging them scream louder next time. "Watch this!", he says, turning to face the row boats out on the lake. "AHHHHHHHHH!", he shouts.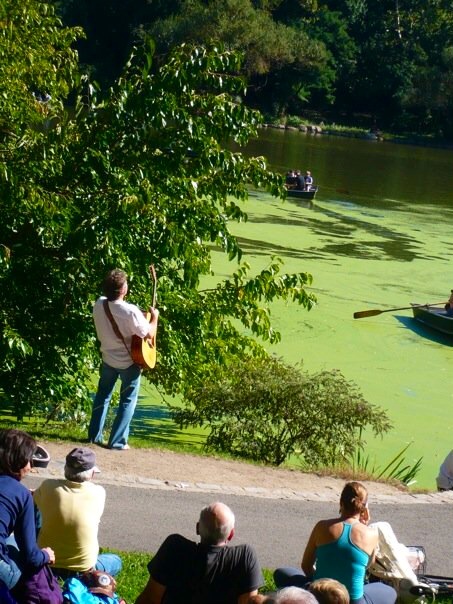 Despite a few perplexed tourists, no one really takes notice. "You see, no one cares.", the guitar man continues, "You know what? I'm even gonna get these guys to help us out." He kneels down to the water and asks some of the rowers to be the drums on his next song. "Just bang the boat as loud as you can- just go crazy when I call out for the drum solo!", he finishes with an intense energy and natural high that's obviously due to his abundant and undeniable passion for making music.
He begins his little ditty about Jack&Diane…
…Oh yeah, life goes on
Long after the thrill of living is gone
Oh yeah, life goes on
Long after the thrill of living is gone
"Drum solo!", he yells.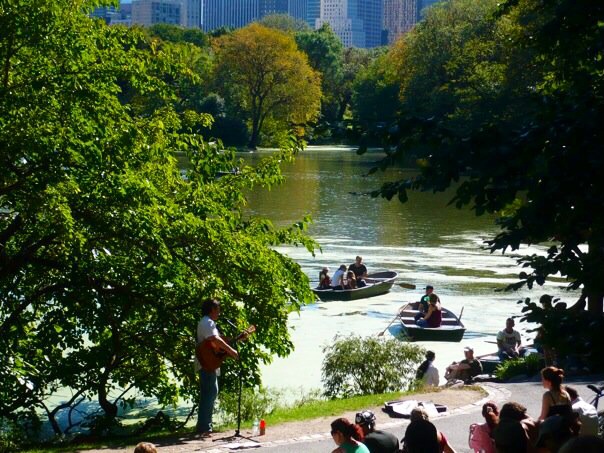 As requested, the rowers start pounding away on the aluminum boats. They're having so much fun that even I want to drum on something, but I remain quiet, observing from the sidelines. Guitar man closes the song with resounding cheers from the crowd. The joy was palpable. I was genuinely smiling for the first time in a while. Though I'm here by myself, I don't feel the loneliness of clinical depression in this moment because I'm very much a part of this energy.
And so, a personal tradition was born.
Every Saturday, I looked forward to my weekly dose of serotonin by the lake. It was, and still is, my sanctuary in the park. Tomorrow will kick off guitar man's (whose real name is David Ippolito), 22nd summer playing. It's the first summer that I can't sit and listen to the music he makes until the sun sets. The Lyme disease does not want me out there, but I say that's bullshit.
Despite the disease's best efforts to trick me into weakness, I WILL feel the energy by the lake again. Maybe I'll only get 15 minutes this time, but that's all you need when every minute is as special as the ones on that hill.
Share